Economic confidence in the euro area continued to improve in August, with companies from manufacturing to services benefiting from higher demand following the end of pandemic lockdowns.
A European Commission sentiment index rose for a fourth month, exceeding all but three estimates in a Bloomberg survey, and registered sustained gains in industry, retail trade and particularly services. Companies' employment expectations rose, but job cuts in recent months across the continent meant consumers remain worried about the labor market.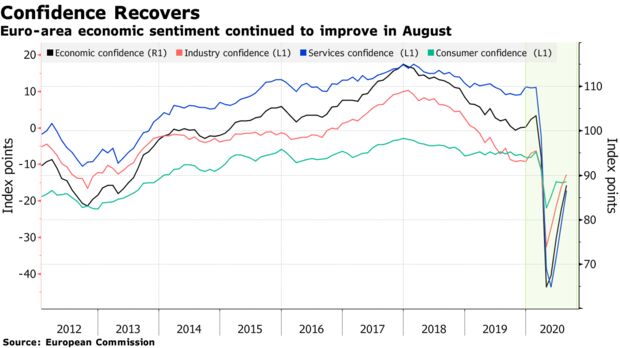 Even with the latest gains, optimism hasn't fully recovered. The headline gauge has made up just about 60% of the combined losses of March and April, and evidence is building that the region's recovery will be uneven and long.
Separate reports on Friday showed French consumer spending rose less than forecast in July and Spanish retail sales continued to decline.
Economic prospects remain uncertain. The 19-nation economy saw a rapid rebound when countries exited lockdowns and governments rolled out support programs to protect jobs, but that progress is now at risk. Infections started to climb again over the summer after many Europeans took holidays, forcing countries from Germany to Spain to reimpose travel curbs.
So far, Chancellor Angela Merkel and other European leaders have ruled out going back to the kind of lockdown seen at the height of the pandemic that pushed the economy into a record slump. But governments are weighing new measures — from Friday, mask-wearing is obligatory on the streets of Paris.
Despite improvements in overall confidence, businesses remain skeptical about the future. The commission's survey showed manufacturing production expectations edged down, while the demand outlook in services slipped for the first time in four months. Retailers' assessment of future business also suffered a slight setback.
European Central Bank chief economist Philip Lane said Thursday that economic developments in the euro area have been more or less in line with the institution's baseline projections, which assume a bumpy recovery. The ECB stands ready as needed to add more monetary stimulus, he said.
The ECB has been at the forefront of crisis-fighting since the virus outbreak, pledging to buy as much as 1.35 trillion euros ($1.6 trillion) in government bonds and other assets until at least the middle of next year. The European Union has agreed to provide 750 billion euros in support.
Source: Bloomberg