Asian equities were mixed on Wednesday, while U.S. and European futures climbed, as investors took stock of gains that propelled global shares to record highs. Emerging-market currencies weakened.
Australian stocks outperformed, while Japan and South Korea posted more modest gains and China and Hong Kong edged lower. S&P 500 futures rose after a climb in Apple Inc. again pulled the benchmark to an all-time high. Euro Stoxx 50 contracts also advanced.
The dollar was steady, having erased overnight losses as data showed U.S. manufacturing expanded last month at the fastest pace since 2018. The euro edged further down from $1.20, a level it breached for the first time in over two years Tuesday. Treasury yields were little changed. The Aussie dropped after a worse-than-expected reading on second quarter growth.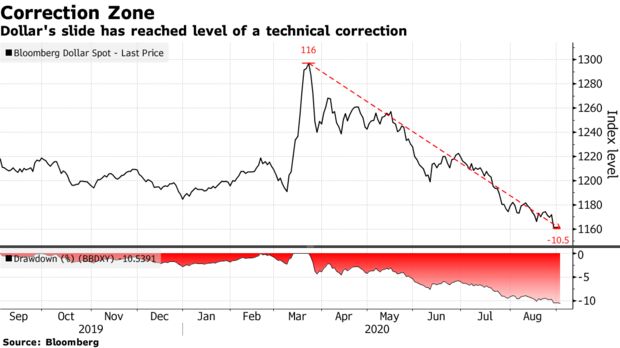 Elsewhere, Indonesia's rupiah slumped amid concern the government could take more control over the central bank. The baht retreated after Thailand's finance minister unexpectedly quite.
Global stocks are continuing to grind higher as investors anticipate more support from policy makers, with last week's announcement from the Federal Reserve that the central bank will maintain an easy-money policy adding fuel to the trade. The U.S. manufacturing expansion on Tuesday came after Chinese factory data signaled rising global demand for exports, a sign the world economy is recovering from the pandemic.
"We ask ourselves the same question over and over — how extended are valuations?" David Kotok, chief investment officer at Cumberland Advisors Inc., said on Bloomberg TV. "Then we see reports on earnings and there are positive earnings surprises coming from the tech companies and that would suggest if that momentum continues then in fact they are not yet overvalued."
Vaccine
On the virus front, a Covid-19 vaccine could be available earlier than expected if clinical trials produce overwhelmingly positive results, Anthony Fauci, director of the National Institute of Allergy and Infectious Diseases, said in an interview with Kaiser Health News.
Texas may lift restrictions on businesses as soon as next week, while New York City delayed the start of its school year by almost two weeks after teachers said they would consider striking if health and safety measures weren't in place.
Meantime, Treasury Secretary Steven Mnuchin said the U.S. economy urgently needs additional fiscal stimulus to fully rebound from the Covid-19 crisis, and he initiated a conversation with House Speaker Nancy Pelosi amid stalled negotiations on a relief package.
Crude oil climbed above $43 a barrel as the pickup in economic activity in the U.S. and China signaled a pronounced recovery in crude consumption.
Here are some key events to watch this week:
U.S. jobless claims for the week ended Aug. 29 are due Thursday.
U.S. jobs report Friday is forecast to show payrolls continued to rebound in August from virus lows.
Here are the main market moves:
Stocks
S&P 500 futures rose 0.2% as of 12:57 p.m. in Tokyo. The index rose 0.8% on Tuesday.
Japan's Topix Index rose 0.1%.
Hong Kong's Hang Seng fell 0.6%.
Shanghai Composite slipped 0.4%.
South Korea's Kospi Index retreated 0.2%.
Australia's S&P/ASX 200 Index climbed 1.8%.
Euro Stoxx 50 futures rose 0.5%.
Currencies
The Bloomberg Dollar Spot Index rose 0.1%.
The yen was flat at 106.04 per dollar.
The euro bought $1.1903, down 0.1%.
The offshore yuan traded at 6.8330 per dollar, up 0.1%.
Bonds
The yield on 10-year Treasuries was flat at 0.68%.
Australia's 10-year yield fell four basis points to 0.93%.
Commodities
West Texas Intermediate crude rose 0.8% to $43.12 a barrel.
Gold was down 0.3% at $1,964.83 an ounce.
Source: Bloomberg